Mongolia and Altai Nomad Games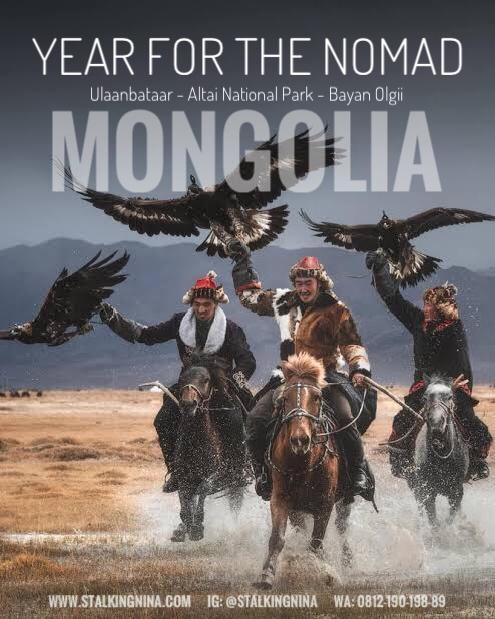 Day 1 – Ulaanbataar
Kedatangan di Ulaanbataar ibukota Mongolia, mengunjungi Gandan Monastery, Chojin Lama Temple, the Bogd Khan Winter Palace, Buddha Big Statue, Zaisan Memorial, menginap di hotel.

Day 2 (B/L/D) – Fly to Oglii
Setelah sarapan, transfer to Airport, lalu terbang ke Oglii. Setelah makan siang, menuju Sagsai Village dan menemui Nomadic Family (Kazakh Eagle Hunter). Bermalam di rumah mereka atau disekitar Sagsai Village.

Day 3 (B/L/D) – Altai Nomad Festival
Kita akan mengunjugi Altai Nomad Games, dan melihat beberapa festival traditonal Kazakh, horseback riding and all nomad riding skill. Pada saat festival, kita akan berbaur dengan orang local yang menggunakan baju traditional mereka. Malam hari, kita akan melihat Kazakh Traditional Concert. Menginap di Kazakh Ger.

Day 4 (B/L/D)  – Altai National Park
Kita akan menuju Altai Tavan Bogd National Park, Mountain side of Mongolia, Mt. Shiveet Hairhan. Mengunjungi situs purbakala 200 sebelum masehi. Melihat pemandangan Snow Peak Mountain dan hutan perbatasan Mongolia dengan China. Menginap di Mongolian Yurt.

Day 5 (B/L/D) – Altai National Park
Di hari ke 5, kita akan mendaki Malchin Peak, 4025 meter. Kita akan melihat Potanin Glacier – glacier terbesar di Altai. Dan melihat nature reserve dari Snow Peak Mountain Huiten, Naran, Ulgii, Burget dan Nairamdal. Dan bermalam di Mongolian Yurt.

Day 6 (B/L/D) – Kunjungan ke Keluarga Kazakh Eagle Hunter
Kita akan mengunjugi Bashakhan's family-Kazakh Eagle Hunter. Bashakhan's memelihara kuda dan membuat Mongolian Nomadic Beer. Kita berkesempatan untuk melihat golden eaglenya dan mempelajari hunting skill. Sore hari kembali ke Oglii. Menginap di Gercamp.

Day 7 (B) – Ulaanbataar
Kita akan kembali ke Ulaanbataar dan mempunyai free time di Ulaanbataar. Menginap di Hotel

Day 8 (B) – Flight Back to Indonesia
Setelah breakfast, kita akan ditransfer ke Airport untuk kembali ke Indonesia.

Price : 1100$ (Land Arrangement Only)
Date : 16 – 23 July 2019
book now only 200$
Quota : 8 pax

Include :
– Accomodation Hotel 3* and Nomadic Yurt (Mongolian yurt or Kazakh Ger)
– Meals as mentioned above in itinerary
– Festival Fee
– All Permit and National Park Entry
– City tour in Ulaanbataar
– Airport Transfer
– Flight ticket Ulaanbataar – Olgii – Ulaanbataar
– English Speaking Guide
– Indonesian Tour Leader **
Exclusion :
– Flight ticket Indonesia – Mongolia and return
– Single occupancy 160$
– Mongolia visa fee
– Guide tips and all personal expenses
email us for detail
Nina : freaky.fuchsia@gmail.com , IG : @stalkingnina
Suko : sukozr@gmail.com , IG : @travelknot.id